ATLANTA WEB DESIGN BLOG
Thoughts, Tips and Incoherent Ramblings from Airtight Design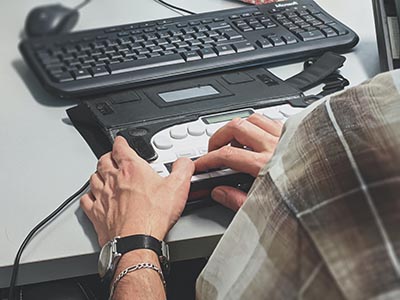 Your site must be WCAG-compliant. Yes, I'm talking to you.
Just as your physical business location must have accommodations for people with disabilities – for example, wheelchair ramps or parking spaces for disabled people – so must your website. The U.S. Department of Justice considers your website a "place of public accommodation." That means that failing to accommodate people with disabilities could result in a costly lawsuit. Fortunately, becoming compliant is easy using a few online tools and the expertise of a web development company like Airtight.
Unfortunately, many websites still fall short when it comes to accessibility, which is why the World Wide Web Consortium (W3C) created the Web Content Accessibility Guidelines (WCAG). Let's explore the benefits and importance of WCAG compliance and accessibility on your company website.
What are the benefits of making my website WCAG-compliant?
Increased audience reach: According to the Survey of Income and Program Participation, approximately 54 million Americans have a disability. By ensuring that your website is accessible to all users, you'll be able to reach a wider audience. This includes people with disabilities, as well as those who use assistive technologies such as screen readers or voice recognition software. By making your website more accessible, you'll be able to connect with a larger audience and potentially increase your customer base.
Show your commitment to inclusivity: By making it easier for people with disabilities to access your website, you can foster a more positive company image. And to quote your mom, "It's just the right thing to do."
Legal compliance: In recent years, there has been an increase in lawsuits related to website accessibility. Many companies have found themselves facing legal action for failing to comply with WCAG guidelines. By making your website accessible, you are reducing your risk of legal action and potentially saving your company time, money and damage to its reputation.
Search Engine Optimization (SEO): Google favors accessible websites, and websites with better accessibility have been shown to rank higher in search results. By making your website WCAG-compliant, you can improve your visibility and attract more visitors to your website.
User experience: When your website is accessible and easy to use, it creates a better user experience for all users. This can lead to increased engagement, improved customer satisfaction, and ultimately, better business results.
How do I know if my website is WCAG-compliant?
The short answer is, it's not! Unless your developers intentionally created the site to be accessible, you'll have your work cut out for you.
There are a variety of tools and resources available to help you test your website and identify any accessibility issues. One of the best places to start is with the W3C's WCAG guidelines themselves. These guidelines provide a detailed list of the various accessibility requirements that your website should meet.
There are also a variety of online tools, both free and paid, available to help you test your website.
WAVE: "A suite of evaluation tools that helps authors make their web content more accessible to individuals with disabilities."
SiteImprove: "Web accessibility tools enable you to easily follow and adhere to international Web Content Accessibility Guidelines (WCAG) across all conformance levels."
axe DevTools: "Accessibility Checker for Developers, Testers, and Designers in Chrome."
These tools are a great starting point for identifying issues, however it's important to note that they are not foolproof. For this reason, it is important to also conduct manual testing with real people who understand the importance of accessibility best practices.
How do I fix accessibility errors on my website?
It's important to remember that making and keeping your website accessible is an ongoing process. This may involve making changes to your website's design, layout, or content. Some common accessibility issues and how to correct them include:
Alt text on images and media: Alt text is used to describe images to people who can't see them. To correct this issue, you'll need to add descriptive alt text to all images on your website. Bonus: It's good for SEO!
Bad color contrast: Some users may have difficulty reading text if it's not in high contrast with the background. To correct this issue, you'll need to adjust the colors you're using. It's usually pretty easy to find color combinations that fit within your brand standards but are also WCAC-compliant.
Lack of alternative options for multimedia: Some users need extra access or help when using media such as video or audio. To correct this issue, you'll need to provide alternative content such as transcripts or captions for these files. If you use Youtube for videos, captions are built-in!
Inaccessible forms: Forms that aren't accessible can be difficult for users with disabilities to complete. To correct this issue, you may need to add labels to form fields, make sure the form can be navigated with a keyboard, and ensure that error messages are clear and concise.
Your website should be regularly tested and updated to ensure it remains accessible and up-to-date with the latest WCAG guidelines and best practices. Don't worry – they don't change often. In addition to testing and updating your website, integrating accessibility into your company training is a great way to make sure future products are developed with disabled users in mind.
How can Airtight help?
Airtight Design has a team of certified Accessibility Specialists who can get your website up-to-date and compliant with current WCAG Guidelines. Website accessibility can seem like a daunting task, so let us do the heavy lifting for you.
Accessibility Audits: Get a report of where your website stands and what issues need to be addressed.
Top to bottom accessibility work: Get your website current and compliant, and let us help you get set up for success with dynamic content.
Reporting: Do you need to meet ADA/508 compliance standards? Your company may be required to complete a VPAT (Voluntary Product Accessibility Template) report. Airtight can provide a thorough and accurate VPAT form for your website.
Accessibility Overlays: Our team partners with AccessiBe to provide accessibility widget overlays for your website – a quicker, more affordable option for companies on a budget.
Accessible websites are good for everyone, not just for people with disabilities. By designing and developing websites with accessibility in mind, we can create better user experiences, increase usability, improve SEO, and ensure that everyone has equal access to information and services online.