ATLANTA WEB DESIGN BLOG
Thoughts, Tips and Incoherent Ramblings from Airtight Design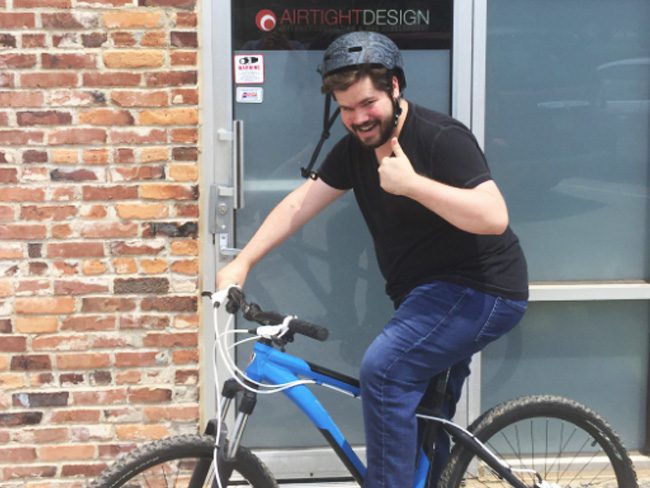 Geekz in the Hood: A Look at Old Fourth Ward
Airtight's location of Atlanta's Old Fourth Ward could not be better. We're adjacent to new Atlanta hotspots such as the Beltline, the Krog Street Market, as well as a connection to the past with the Martin Luther King Jr. National Historic site. It's safe to say there is no shortage of things to do in this area!
The Beltline is the most comprehensive transportation and economic development project ever developed by the City of Atlanta. When complete, Atlanta will enjoy 22 miles of pedestrian-friendly railway transit, 33 miles of multi-use trails, 1,300 acres of parks, and $10-$20 billion of economic development.
Airtight keeps four cruiser bikes on hand for employees to borrow anytime they want to explore the Beltline.
Krog Street Market stands in the footprint of the old Atlanta Stove Works, which closed in 1987 after nearly 100 years in business. Today Krog Street Market offers a unique shopping experience with stands selling prepared food (at a price that will make you pack your lunch more often than not), as well as 24 locally founded restaurants and retailers. Zagat called it one of the "Top 11 Must-Visit Food Halls Across the U.S." It also houses our favorite beer store.
In the midst of one of the fastest growing areas in Atlanta, the Martin Luther King Jr. National Historic Site pays tribute to one of the world's most influential leaders. The site includes the birth home of MLK, the historic Ebenezer Baptist Church where King was pastor, the King Center museum, and the final resting place of Dr. King.
Some of our other favorite spots in the neighborhood are …
Historic Old Fourth Ward Park which is also located on the Beltline has a beautiful retention pond (bet you didn't know a retention pond could be beautiful!) large playground and totally gnarly skate park. Just a short bike ride up the Beltline is Ponce City Market that offers many different retail and dining